Dental Emergency in Pakenham
Dental Emergencies
Dental emergencies may occur at any time day or night and can be quite frightening or often painful. A calm, rational response will help you obtain prompt treatment to alleviate pain and ensure your teeth have the best possible chance of survival. Most injuries to the mouth should be treated by a qualified dentist as soon as possible. Getting to the dentist within 30 minutes can make a huge difference between saving or losing a tooth.
Most dentists reserve time in their daily schedules for possible emergencies. Teeth may become fractured by trauma, grinding or biting on hard objects. In other cases previous general or cosmetic dental procedures can be become damaged, dislodged or fall out of the mouth completely. It is essential to rectify the issue promptly, and if you experience severe pain you must contact Cardinia Dental Clinic immediately.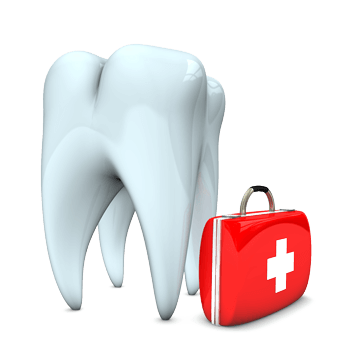 Types of Dental Emergencies
Knocked-out Tooth
The first step for any dislodged tooth is to remain calm and find the actual tooth. It's important to be extremely careful when handling a loose tooth, so the roots and tissue fragments on the base remain in tact. This ensures the nerves and blood vessels remain healthy so there is a chance the tissues will grow to support the tooth once again.
Steps to Take:
Call Cardinia Dental Clinic on (03) 5941 2993.
DO NOT touch the root. Pick up the tooth by the crown and rinse it under milk, saliva or warm water to remove any debris.
If possible, try gently placing it back into its socket. If you cannot replant the tooth keep it moist by immersing it in milk or saliva, sealing it in plastic wrap, or placing it in the person's mouth next to the cheek.
Get to Cardinia Cental clinic, quickly and safely.
Teeth that are reinserted within 20 minutes have the best chance of surviving. In some cases, the tooth will reattach, but if the inner mechanisms of the teeth are seriously damaged, root canal therapy might be necessary.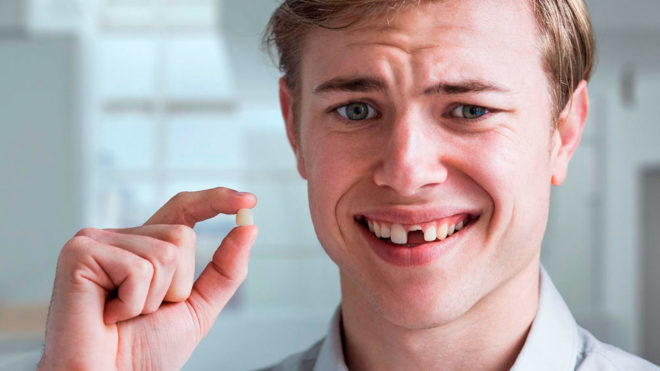 Chipped, Fractured or Cracked Tooth
The urgency of a cracked or fractured tooth depends on the severity, but only a dentist can discern how serious the accident is. Sometimes fractures are fairly painless, but if the crack extends down into the root, the pain is likely to be extreme. If a tooth is cracked from trauma, grinding or biting, the best alternative is to book an appointment immediately.
It's important to clean the area effected by rinsing the mouth with warm water. Compress the cheek area with an ice pack wrapped in a clean towel to reduce swelling.
Steps to Take:
Call Cardinia Dental Clinic on (03) 5941 2993
Rinse the fragment of tooth your mouth with lukewarm water
Apply a gauze to the area for 10 minutes if there is bleeding
Place a cold towel or ice pack on the cheek to minimise the pain and swelling
Take a pain killer to further reduce pain and swelling
If a fracture or crack extends into the root, root canal therapy might be the only option to retain the tooth. If the tooth has a segment chipped off, Cardinia Dental Clinic will attempt to fix the fragment onto the tooth as a temporary measure.
Toothache
For quick relief, ask Cardinia Dental Clinic or your pharmacist about any over-the-counter pain medication. It's important to rinse the mouth with warm water and place a cold compression against the cheek to reduce swelling. Gently floss around the tooth to remove any food caught between your teeth. If the symptoms persist, it's best to contact your dentist to ensure further problems are minimised.
---
Bitten Lip, Tongue or Cheek
This is type of injury can occur during eating or any type of recreational activity. Simply wash the area gently with warm, salty water and apply pressure to the area with an ice pack to limit the bleeding and any swelling that may form. If bleeding persists after 15 minutes, you should contact Cardinia Dental to rectify the problem.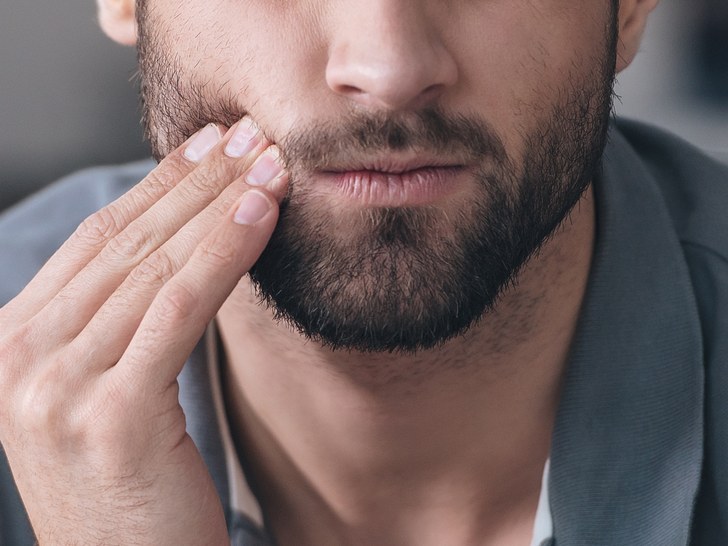 Abscess
If you're experiencing pain when you bite or chew, this can be a sign of an abscess that needs immediate treatment. This localised infection usually forms at the root of the tooth or in the space between the teeth and gums. If left untreated, the painful condition can cause further damage to live tissue and surrounding teeth. An abscessed tooth will cause pain that may last 30 seconds to hours at a time. It may be accompanied by swelling, a foul odour and a bad taste.
Regular warm salt water rinsing can also help alleviate discomfort until you're able to see your dentist. If you're experiencing a tooth abscess it's important to see Cardinia Dental Clinic as soon as possible to obtain treatment. In the worst case scenario, the tooth may require root canal therapy or may need to be extracted. Alleviating pain and discomfort is the immediate goal.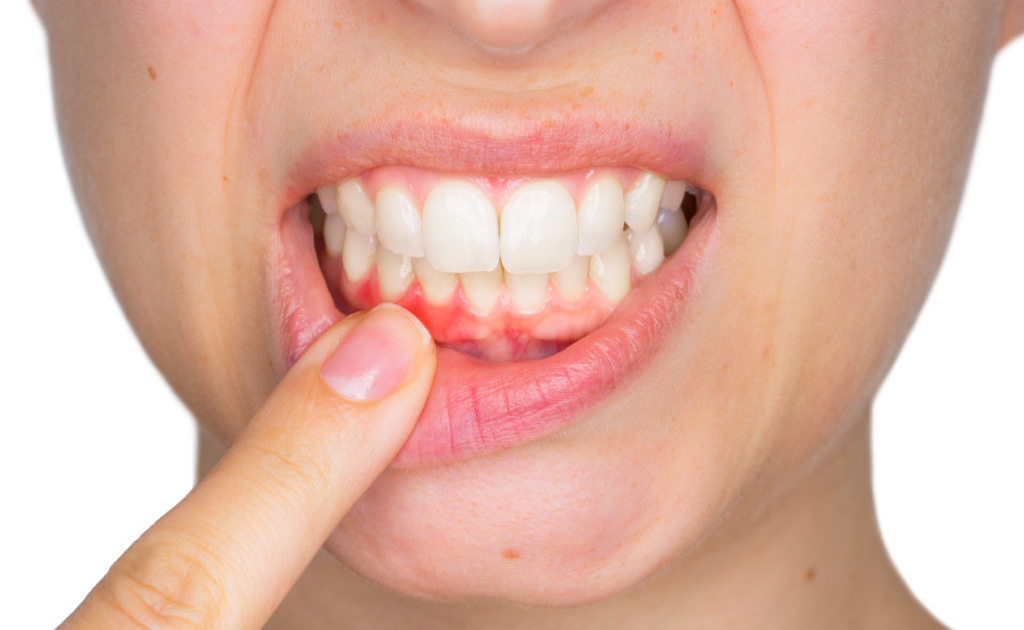 Lost Filling or Crown/Veneer
If you have lost a filling, crown or veneer you must consider it a dental emergency even if you don't have any symptoms. The tooth has lost the support and protection it originally had and may be weaker. Your teeth are highly vulnerable to chipping, crumbling and will require additional treatment if affected. If you see Cardinia Dental Clinic as soon as possible there is a good chance they will be able to repair the damage with minimal treatment.
If a cavity has developed underneath a filling, crown or veneer, it can become loose and eventually fall out. The decay causes the shape of your tooth to change meaning the dental appliance will no longer fit. If your dental appliance has fallen out, make an appointment immediately to increase the chances of re-fitment. Otherwise teeth may shift further or sustain more damage which will require a new filling, crown or veneer.
Steps to Take if you cannot reach the dentist:
Apply clove oil directly to the tooth to alleviate pain
Clean the dental appliance and affix it onto the tooth with dental cement purchased from your local pharmacist.
If the dental appliance is lost, smear the dental cement over the tooth to alleviate discomfort.
DO NOT USE GLUE to affix the dental appliance.
Cardinia Dental clinic will always check to see if the appliance can be reattached onto the tooth. The degree of tooth decay will be assessed and rectified first. If the old appliance does not fit anymore, a new one will be made.
How to Prevent a Dental Emergency?
There are many simple precautions to help prevent injuries to the gums and teeth. If you are participating in sport or recreational activities, always wear a custom-made mouth guard that is designed and specially manufactured by a dentist. Always use scissors or knives to open plastic products and avoid chewing on hard objects
We Accept All Private Health Insurance Funds