Invisalign
The Invisalign treatment is a fast, comfortable and convenient way of straightening your teeth using clear (virtually invisble) aligners over a calculated period of time. Obtain the perfect straight smile you've always desired without the need for uncomfortable metal brackets and restrictions on your daily life.
Advantages of Invisalign
By choosing the Invisalign treatment your crooked teeth can be straightened using custom-moulded and removable aligners designed for comfort and convenience. Suprisingly over half a million people have chosen Invisalign because of it's many benefits over traditional braces:
A clear plastic aligner that is unnoticeable whilst fitted into your mouth
Smooth plastic, custom moulded aligner with no irritating wires or brackets. Easily removed for eating, drinking or recreational activity.
Maintaining healthy dental habits is incredibly easy, since the aligners are removable and do not affect your gums adversely.
I7
LITE
FULL
COMPLEX
TEEN
Invisalign i7 treatment plan provides an effective solution for correcting teeth over a series of aligners structures in the smallest possible time-frame. For this reason, patients who have received orthodontic treatment in the past or have slight dental issues can benefit from this type of treatment.
Time-frame: up to 3 months
Suitability: mild to moderate cases
Aligners: Under 7 phases of aligner treatment
Invisalign Process
Cardinia Dental Clinic is equipped with advanced technology for capturing digital impressions of your teeth, which are required to create custom fitted aligners that guide your teeth into proper alignment. To illustrate, the impressions are taken using an advanced iTero® or Trios Digital Impression System to model your teeth in a 3-D environment which will indicate what your teeth look like at each stage of the Invisalign process. Using this model a complex software called ClinCheck® can be used to simulate the series of movements your teeth will experience over the course of the treatment, allowing Invisalign technicians to create custom aligners that provide calculated pressure to shift teeth into place. During treatment you will switch to a new aligner every two weeks, unlike traditional braces there's no tightening or adjustments required.
Most importantly it's advised you wear the aligners for 20-22 hours per day, only removing the appliance for eating, drinking and brushing teeth. The entire process can take 6 months up to 1 year depending on your circumstances. In order to understand how the Invisalign treatment can work for you, contact Cardinia Dental Clinic to learn more through a Cosmetic Consultation.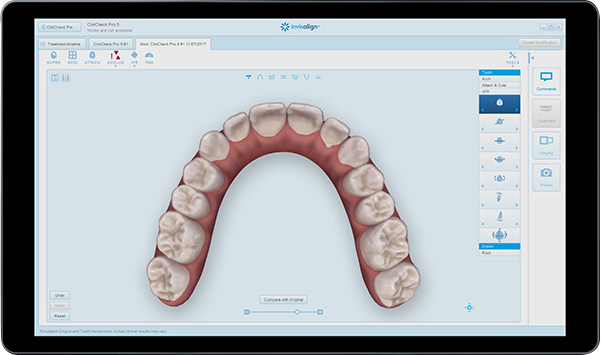 We Accept All Private Health Insurance Funds