Teeth Whitening in Pakenham
Teeth Whitening
In contrast, maintaining proper dental hygiene habits, or obtaining a professional Check Up & Clean can remove surface stains; but teeth whitening goes beyond the surface. All teeth contain important layers such as the tough outer enamel, softer dentine and the inner pulp layer. As you age the outer enamel layer can thin from ageing or wear and tear which slowly reveals the darker dentine layer. When combined with stains that collect on tiny miscroscopic tubels on your teeth over time, your teeth can discolour and change shade.
Cardinia Dental Clinic can offer both in-office whitening products and at-home products that drastically whiten your teeth on application. The difference is the quality and amount of time it takes to whiten your teeth.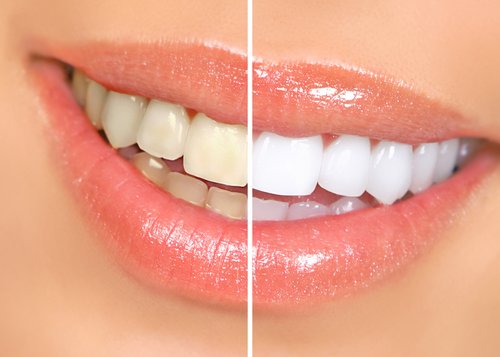 In Office Teeth Whitening
Professional treatment may not be the cheapest option, but it is the most effective method for teeth whitening available. In a little over an hour your teeth can be dramatically lighter; at least six to ten shades. Undertaking treatment begins with a thorough assessment by your chosen Cardinia Dental dentist, who conveniently conducts the whole teeth whitening procedure in the comfort of our clinic.
In chair treatment typically uses a much higher concentration of whitening gel in comparison to kits available over the counter or on the internet. Moreover professional teeth whitening gel is scientifically formulated hydrogen peroxide that activates when illuminated by an ultra-violet light; penetrating your teeth to remove deep stains and discolouration. The gel is evenly applied to the exposed teeth ensuring a consistent finish whilst avoiding sensitive areas like your gums and lips. Typically a special rubber dam customised to your mouth will restrict the bleach from contacting sensitive areas, providing safe, instantaneous results on your beautiful smile.
Once the treatment process is complete, the gel will be removed and a fluoride based gel will be applied to reduce tooth sensitivity. The whitening gel is applied over several 15 minute intervals to achieve the desired colour you want.
At-Home Teeth Whitening
Cardinia Dental Clinic can also issue professional take-home whitening kits where you can apply teeth whitening gel on your teeth in the comfort of your home. For instance the kit can be used as a standalone treatment for whitening your teeth or a touch-up procedure after your in chair teeth whitening.
We can issue two types of take home whitening kits.
Professional Take Home Kit - a much safer option than the over the counter/ internet trays because they are professionally designed and custom-fitted for your mouth. Cardinia Dental takes an impression of your teeth which is used to produce a mould. Consequently a special custom rubber tray is developed for added protection against the peroxide used.
Professional Over The Counter Kit - cheapest option for teeth whitening available. In spite of this Cardinia Dental ensures the whitening product is safe to use on your teeth. Trays used within this kit are typically generic designs, or moulded by dipping the contents into boiling water. Unfortunately generic trays are not as effective at protecting your sensitive live tissue from the bleaching agent.
In conclusion professional in office teeth whitening is the safest and most effective method for teeth whitening available. Since the gel is evenly applied with custom trays that perfectly protect your gums and lips. At home teeth whitening should be considered more substitutive, rather than a complete treatment.
We Accept All Private Health Insurance Funds