Root Canal Therapy in Pakenham
Root Canal Overview
This procedure is required when a tooth is heavily affected by decay or infection. In order to save the tooth, the pulp (living tissue inside the tooth), nerves, bacteria and any decay are removed. After cleaning and re-shaping the canal cavity, fillers are inserted to prevent bacteria from re-entering the nerve system.
Most often root canals are performed to retain functionality and aesthetics within a tooth. Many patients believe removing a tooth that has problems is the only solution. However, restoring a natural tooth with therapy can be cheaper than implants and cause less problems for adjacent teeth.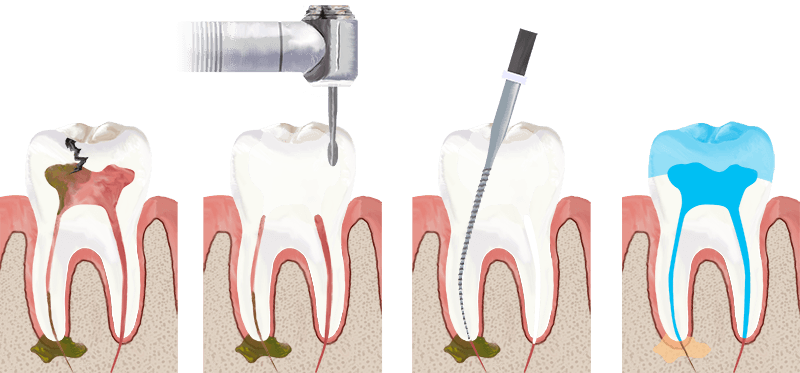 Root Canal Procedure
A root canal procedure requires several appointments and can be performed by a dentist or periodontist (root canal specialist). Under local anaesthetic, a rubber dam (sheet of rubber) will be placed around the tooth to keep it dry and free from saliva. An opening is made on the tooth and canal files are placed into the opening to remove the pulp, nerve tissue, and bacteria. Once the tooth is thoroughly cleaned, it will be sealed with either a permanent or temporary filling.
In the following appointment, the roots and the inside cavity of the tooth will be filled and sealed with a special dental material. A filling or crown will be placed to cover the opening on the top of the tooth to protect and prevent it from breaking, restoring it to it's full function. After treatment your teeth may be sensitive, but it will slowly diminish as the inflammation recedes.
Signs and Symptoms
Severe tooth pain
Sensitivity to hot and cold liquids
Swelling and/or tenderness
An abscess (or pimple) on the gums