Dental Implants in Pakenham
What is a Dental Implant?
Dental implants are metal posts or frames that are surgically positioned into the jawbone beneath the gums. They are a great way to replace missing teeth and provide a fixed solution to having removable partial or complete dentures. Implants provide excellent support and stability for dental appliances, they won't slip or shift in your mouth - an important benefit when eating and speaking. Another advantage of dental implants is that no adjacent teeth are needed to be prepared or ground down to hold your new replacement tooth like bridges.
The appliance attached to a dental implant is very natural looking and often enhances or restores a patient's smile. The titanium screw is essentially an artificial root that is placed in either the upper or lower jaw. A fusing process known as osseointegration forms the strength between the implant and jawbone to serve as a strong foundation.
Candidates for dental implants need to have healthy and adequate bone to support the implant. Meticulous oral hygiene and regular dental visits are critical for long-term success of dental implants. A thorough evaluation by one of our qualified dentists at Cardinia Dental Clinic will determine whether you are a suitable candidate for implants.
Reasons for Dental Implants
Restore a patients smile by restoring teeth
Restore proper chewing, speech and digestion
Enhance or restore facial tissues
Replace one or more missing teeth without support from adjacent teeth
Resolve bite problems or pain caused by teeth shifting
To support a dental appliance (bridge or denture), making it more secure and comfortable.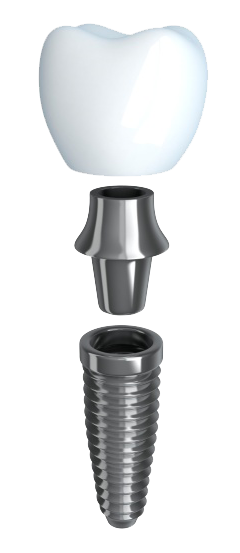 How is an Implant Fitted?
The process for getting implants requires several months over multiple visits to ensure the bone grows around the anchor to firmly hold it in place. During the first procedure, a small incision is made into the gum line where the implant will be placed. A hole is drilled into the bone, the implant is fixed and the incision is stitched closed.
At the end of the healing process, a second procedure takes place. A new incision is performed to expose the implant to allow a healing cap, screwed onto the top of the implant. This helps the surrounding gum tissue heal, and after a few weeks the healing cap is replaced with the abutment used to support a dental crown.
Dental Implants from $3999. Any surgical or invasive procedure carries risks. Before proceeding, you should seek a second opinion from an appropriately qualified health practitioner.
We Accept All Private Health Insurance Funds